It feels strange to watch a film nominated for ten Oscars and leave it feeling that it's underrated. The same can be said for practically any film by Scorsese, with exceptions to his early work and documentaries, but it has to be said that the reputation given to Gangs of New York from film fans today is a pretty critical one. I can't say how much of that is just my circle of critics and friends whose opinions I come in contact with most, but the viewpoint that without Daniel Day-Lewis' performance as Bill the Butcher the film would be terrible is certainly a common one. 
I shared this same viewpoint upon my first viewing some years ago. I think it is worth noting that I believe I was only 14 when first seeing it and was pretty against period pieces generally, but still, the fact remains that I shied away from Gangs of New York and always looked at it as an odd spot in Scorsese's filmography. I did the same with The Departed, too, but recent returns to both films have shown me just how wrong I was. It did strike me that the two films are quite similar, too, so my reasons for being uninterested in them (especially relatively to Scorsese's other films, all of which I really love save for Boxcar Bertha) may have been the very same. Both films hone their focus in on America, this film using gangsters in 1840s and 50s New York City to play out the politics of the time and The Departed using the typical cops and robbers espionage to act as a microcosm for America at large as well as to comment on immigration, a topic that has evidently been of interest to Scorsese for many years with ItalianAmerican releasing in 1974. And both tales become timeless as America has consistently found progress in bloodshed and violence – the ruthless taking of the land itself from the Native Americans, slavery being used to build many of the country's financial foundations, etc. So much of American iconography leads back to violence, and so Scorsese's almost Tarantino-esque excessive violence becomes self exploratory.
The clearest example of this is seen in the opening battle in Gangs of New York, in which the excessive violence is used not only to introduce the audience to the brutal world that these characters inhabit but also to make it clear that there is a connection here between (extreme) violence and political progress. The final shot/montage of the film may suggest that all of this will be forgotten, as the graves of those killed vanish as the city progresses towards its current state, but The Departed would suggest otherwise – that violence begets violence in a cyclical manner that, if anything, only grows stronger as time passes, weapons become more brutal and the connection between power, progress and violence only become stronger.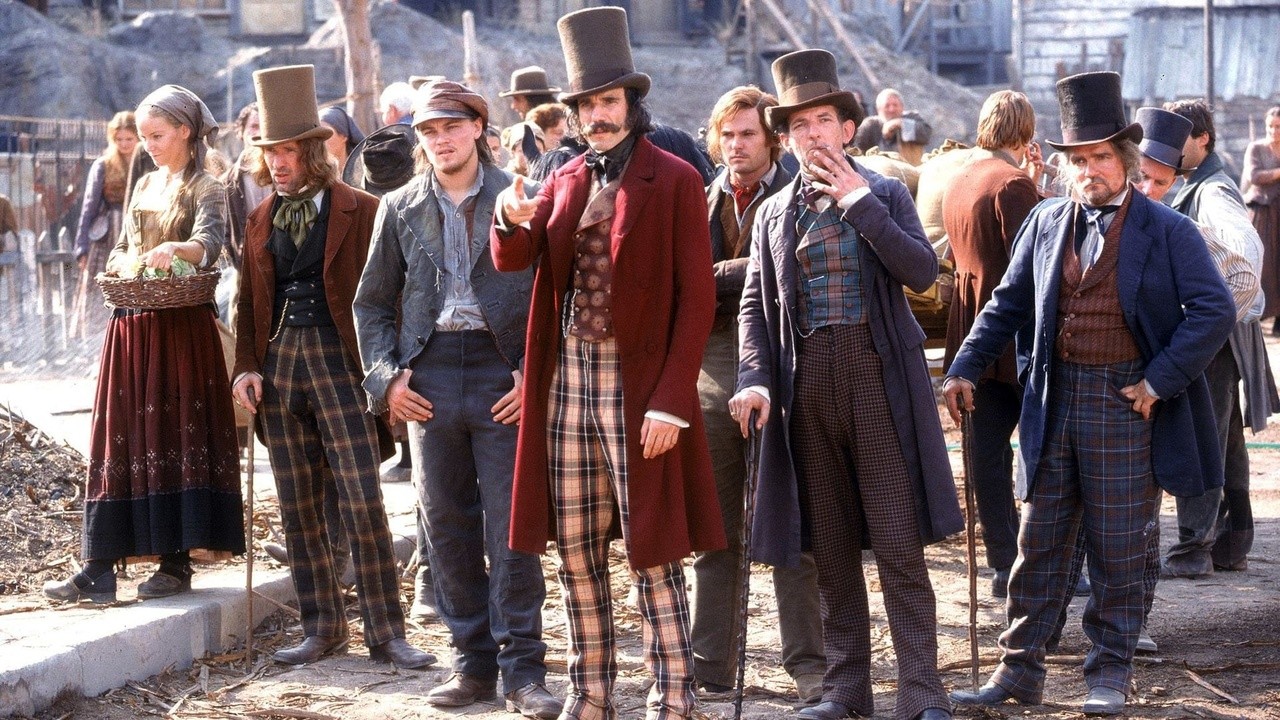 Being Scorsese's first feature released in the 21st century, Gangs of New York certainly had high expectations to meet. Despite the fact that (the very good!) Bringing out the Dead was a commercial flop and received less acclaim than practically any other Scorsese film up to that point, Scorsese was still a huge name of course and so the reveal of the monumental cast would have caused quite the interest, as would the epic scale (Scorsese's epics always seem to be his best performing films, with the exception of Silence). The ten Oscar nominations would have certainly made some difference too, but this film seems to have been almost left behind in spite of its greatness. It may not be Scorsese's greatest film (which, for me, must be The Irishman) but it is quite vastly overlooked. Another reason for this could definitely be the on-the-nose quality that the film has at times, whether that be from Brendan Gleeson's "Haven't you heard of Shakespeare?" as said to Leonardo DiCaprio in a film so clearly inspired by Shakespeare, made clear by Amsterdam's almost teenage romance with Cameron Diaz's Jenny Everdeane (a woman DiCaprio is expected to stay away from due to her personal links to Bill the Butcher), or the opening and finale to the film which both take from MacBeth and King Lear, or the extremely fast editing of the final third of the film (which I personally think is utterly brilliant, perhaps the greatest part of this film – seeing Scorsese lean towards the style of Griffith and Eisenstein when finally unhinging at the end of this film is the greatest cinematic pleasure I've had in a little while).
It makes sense that audiences may have wanted to steer clear of a film like this – one that takes Scorsese's typical violence and shows it in a different light, away from the gangsters of modern day for whom violence is a way towards wealth that they don't truly need and towards a much harsher, more depressing focus on how violence and politics are, and always have been, deeply intertwined. No one is safe from those in power, and those in power are equally unsafe – politics are not fair, as made clear by Bill the Butcher's methods of violence against those who are democratically voted into power, and as the expansion of The Departed made clear, things haven't gotten any fairer, really.
Taking from some of the greatest filmmakers of all time in the forms of John Ford, D.W. Griffith (minus the more than questionable political leanings!) and Sergei Eisenstein, Gangs of New York sees a new type of seriousness from Scorsese – it is an incredible film that sees Scorsese take from his brilliance before and apply it in an entirely new fashion which would grow into what we see in The Irishman today. Considering its acclaim, somehow, this film remains underrated and seems ripe for re-evaluation after the election of Donald Trump, with Scorsese himself saying that modern politics are 'almost like Gangs of New York, where you have a Bill the Butcher becoming President.' in 2016.