This list was originally intended for publishing on Taste of Cinema –
It's always too easy to miss out on great films, considering that there are new ones constantly arriving and every classic you watch seems to reveal another ten that you need to see, too. Thankfully, if we all share our more hidden findings with one another, it should become easier to build up an overall view of what is worth watching, and some films worth avoiding like the plague – however, given that we've all had enough of thinking about plagues this year, let's focus on some extra films that are most definitely worth giving a watch. Without any further blabbering, here are ten great films from the 1990s that you've probably never seen! Let's start –
Naked (Mike Leigh, 1993)
Mike Leigh is maybe only notorious through the U.K. for his varied body of work, as otherwise he seems to be generally rather overlooked in spite of his more than forty year long career during which he has had relatively few 'failures'. Naked is perhaps his most well known film, alongside the more recently released Mr. Turner (which mainly gained traction with viewers because of the critical reception to Timothy Spall's simultaneously bizarre and grounded performance), and yet still it remains relatively unheard of in many film-fan circles. Naked stars David Thewlis as Johnny, a frankly quite unlikeable character (Leigh is brilliant for his less likeable characters!) who leaves Manchester for London after… things go wrong – best not to spoil what happens in the opening, it is something of a shock by design. The film follows Johnny as he stumbles through London, introducing himself to an oddball range of characters and tending to give them all more than they care to hear about his philosophical ideas. With some of the sharpest dialogue in any Leigh film (which, by extension, means some of the sharpest dialogue in any film), Naked is a film with a stunning bite backing up its already ferocious bark, lead by a career best performance fromDavid Thewlis as a man who has allowed his worldview to be completely tainted by his existential fears. It's a tough watch, but one that proves very rewarding, no doubt.
Henry Fool (Hal Hartley, 1997)
Hal Hartley, much like Mike Leigh, seems to be generally overlooked considering the consistency of his career and the amount of time he has been making these great films. Henry Fool may be his masterpiece, a film that kicked off a (admittedly barely connected, in genre at least) trilogy that saw Hartley's experimentation slide up another notch, going from a comic drama about poetry to a spy thriller to a coming of age film, all set over eighteen years – Boyhood, eat your heart out! Henry Fool follows the usual Hartley traditions – the dialogue is intentionally performed in a very dry, nonchalant manner, none of the actors seem to *really* care about being present (aside from Thomas Jay Ryan who plays the titular Henry) and much of the dialogue is somehow perfectly specific and character revealing whilst also just sounding like an unscripted ramble a lot of the time. Hartley certainly isn't for everybody, seemingly giving himself over to a cult fanbase who enjoy most everything that he has made (aside from Fay Grim – the spy thriller that followed Henry Fool – most likely because of the complete shift between predecessor and sequel… Fay Grim is an astonishingly well-written film, and a very fun one too, but the shift in approach seems to freeze up a lot of Hartley fans.), but nonetheless, Henry Fool is most certainly worth the risk – it's incredibly funny thanks to the deadpan humour, surprisingly dark at times and weaves its various subplots together with surprising intricacy.
Mother and Son (Aleksandr Sokurov, 1997)
Aleksandr Sokurov is, of course, most recognised for his opus, Russian Ark, thanks to that film being comprised entirely a single shot that tracks history, thousands of actors, different locations and somehow still works… however, for those who have familiarised themselves a little more with Sokurov, the realisation soon strikes that there is much to learn about more than just incredibly impressive technical feats within his work, and that he belongs alongside the likes of Tarkovsky whenever the discussion of greatest Russian directors happens to arise. Mother and Son is one of his shortest films, clocking in at just over an hour, and yet the slow cinema style deliberately makes this feel quite drab and appropriately miserable, as it should. The film, which features very little dialogue, documents a son as he looks after his ailing mother, very delicately viewing their relationship and how it has been altered when their positions have essentially switched – it is now up to the son to look after the mother. It is of course rather tough to watch, but the film contains a rare beauty and delicacy that can't be found often in films from anywhere.
The Hudsucker Proxy (Joel & Ethan Coen, 1994)
It must be said that it does feel a little sly to include a film by the Coen Brothers in a list of overlooked work, but it would feel more sly to ignore what is such a great film. The Hudsucker Proxy was the first real flop of the Coen Brothers career (they have had some more since, of course), a film that was given a mega budget and that really struggled to make much of said budget back in the box office, and it was also a film that critics at the time (and still, many today) took a disliking to. Whether this is because of the odd style that the Coens were able to play around with thanks to this higher than usual budget or something else entirely, it's hard to say – it seems, for most, to be a mix of the oddball style, the endless Kafka nods and the 40s Hollywood Golden Age throwback story that follows many of those same Classical Hollywood screwball comedy tropes in the process. But there's something wonderful about seeing a film quite so slick, too – a film with the confidence to try throwing a few different styles together and then also even having the confidence to make that work, somehow. Loaded up with maybe triple the jokes of the majority of comedies, wonderful and zany performances from the leads and more Gilliam-esque imagery (Brazil comes through a hell of a lot here!) than you can shake a stick at, The Hudsucker Proxy is one of the most underrated films by the Coen Brothers, and one that seems ripe for a critical re-consideration.
Ladybird, Ladybird (Ken Loach, 1994)
Much like Mike Leigh, it seems that Ken Loach's work only seems to have a large amount of appeal to those living in the U.K. for some reason, in spite of the success internationally of Kes (1969). Even after I, Daniel Blake (2016) took home the P'alme d'Or, the film didn't seem to fully leave the ground, and it didn't seem to help his most recent film (Sorry We Missed You – also a great work!) find some additional advertising, either. It's difficult to say what exactly is to blame for the lack of a worldwide reception for Loach, however, it certainly isn't the quality of the films, as almost all of his work is deeply cutting, very in-the-moment and emotional, handled beautifully in a way that feels more real than most other directors can manage. Ladybird, Ladybird is no exception to this established rule of Loach's work, following an Ali: Fear Eats The Soul type romance between the emotionally wounded Maggie and Latin American refugee Jorge as the pair struggle through their relationship with pressure from those who they know, the authorities and the past, which seems to linger over the both of them and tarnish all of the good that they try to create in the present. Unlike most Loach films, this one is devoid of his trademark light comedy, pushing the audience completely into the bleak reality (the film is based upon a true story) of the characters and their situations. Again, a very hard watch but a rewarding one in the end, and a very important one for those brave enough to combat it.
Public Housing (Frederick Wiseman, 1997)
The only documentary featuring on this list, Frederick Wiseman is often ignored due to the intimidating runtimes belonging to a lot of his films – they very frequently run over three hours, often over four… sometimes over five! To say that Wiseman is interested in details clearly may be something of an understatement, but his intense level of focus on each and every one of his subjects make his documentaries utterly fascinating, as does his cinema verite style which ignores the typical cinematic traits of documentaries and opts instead for laying back almost entirely, allowing the action to play out and only observing it, as opposed to taking the Herzog mantra of essentially scripting his documentaries and telling interviewees how to say certain things to garner a specific effect. This level of determinism and this focus on capturing the everyday makes Wiseman only more admirable, and his focus in this case specifically on Public Housing is incredibly illuminating of a function that is often not thought of in detail other than by those who are in control of them – it's an important and deeply revealing documentary, as are many of Wiseman's others – they're terrific!
Rhapsody in August (Akira Kurosawa, 1991)
Of course, Akira Kurosawa needs no introduction – his featuring here feels quite similar to the earlier inclusion of the Coen Bros… far from overlooked, but sometimes films slip through the cracks and Rhapsody in August is one that certainly didn't deserve to be forgotten as it seems have been. Whilst, understandably, most film fans curious about Kurosawa tend to go for the films that he made in his prime from the 50s to the 70s, not his late work (which is still deeply impressive!), films like Rhapsody in August shouldn't be forgotten. It's also most definitely the only Akira Kurosawa film to ever feature Richard Gere – there's a surprise! But don't let that put you off – the film is a delicate, Ozu-esque look at the struggle between America and Japan after Hiroshima, and whether those wounds created can ever be healed. It's a beautiful, delicate and endearing film, and it's also wonderful to see Kurosawa work with colour cinematography again.
The Comfort of Strangers (Paul Schrader, 1990)
Once again, Paul Schrader is of course a highly recognised name, although more so as a writer than a director, and his adaptation of Ian McEwan's novella of the same name in The Comfort of Strangers is one of the great displays of his talent as a director, alongside his other works like Light Sleeper (if you enjoy The Comfort of Strangers, check that one out! And vice versa!). The Comfort of Strangers is about a couple who have gone on holiday to Venice in an attempt to try to revitalise their dwindling passion for one another, their attempts seeming to fail until they come across the mysterious Robert (played by the always brilliant Christopher Walken in one of his more villainous and mysterious roles – he is excellent here!), who seems to hold the passion that they've been needing/looking for. Schrader's portrayal of Venice as a dingy, isolated labyrinth is utterly fascinating, and it seems surprising that a film based upon such a successful book by a director as good and as known as Schrader would be mostly forgotten – again, maybe time for some re-evaluation.
Trees Lounge (Steve Buscemi, 1996)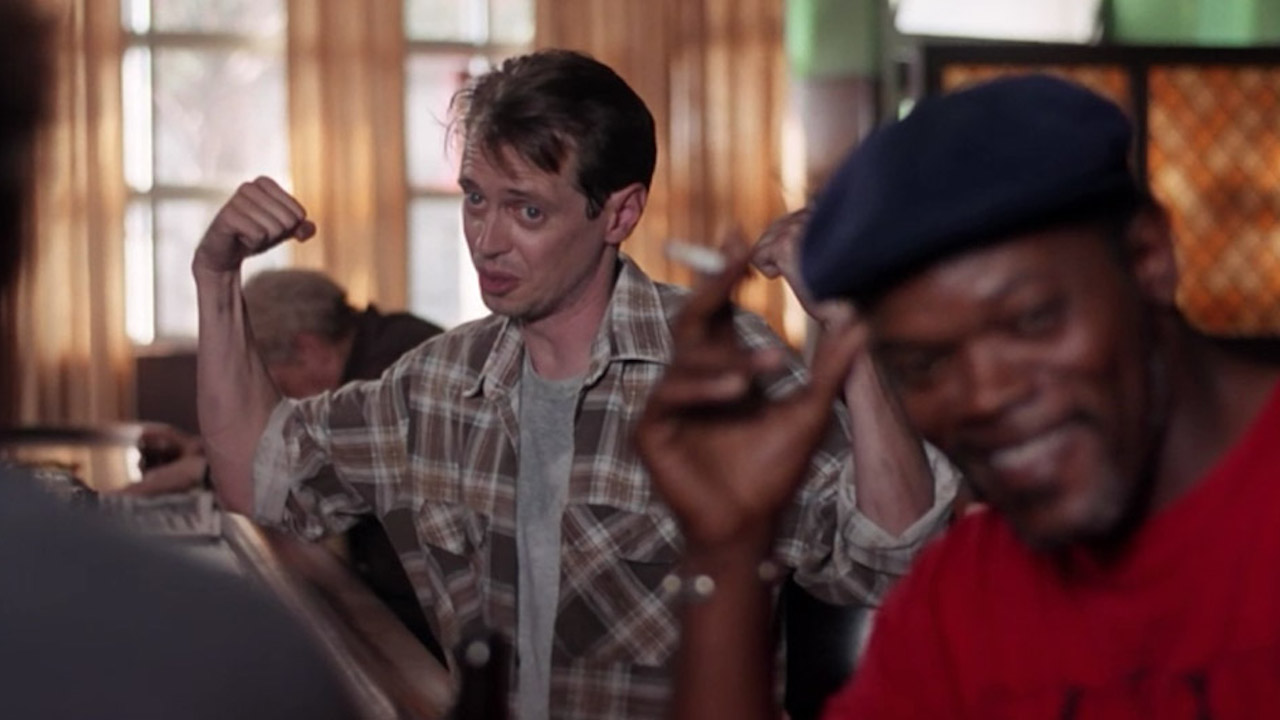 Many of you are probably quite surprised to see that Buscemi directed a film! And maybe more surprised to see that he also starred in it! And even more surprising is how good of a job he does in both roles at the same time, evidently having learnt all that he needed to from his years as a star leading up to 1996. Trees Lounge follows Buscemi as Tommy, a man who has really given up on everything aside from providing himself with a steady stream of alcohol and speaking to other bar attendants as and when he feels like it after losing his job and his girlfriend. With Buscemi perfectly riding the line between tragedy and comedy as the loveable character often making far too many hate-able decisions, including the idea to get with a seventeen year old (played by a young Chloe Sevigny!) he knows (note that the film doesn't defend Tommy's actions – feels like an important line to draw in the sand!), Trees Lounge becomes at once another American tragedy/melodrama centred around a man who has given up on everything at the same time as using this tragedy as a springboard for comic relationships between himself and others, as neither one realises their wrongs at any given point.
Beau Travail (Claire Denis, 1999)
Yes, yes, admittedly there aren't really enough world cinema directors on this list considering it is about the overlooked, so we'll conclude with one more! And just to make up for the focus on American cinema, why not make it one of the greatest, with her greatest film (to date, at least)? Beau Travail is about Denis Lavant as Galoup, an army official who finds his disciplined and routine-based life disturbed by the sudden appearance of a new recruit, Sentain, with the conflict starting to create more and more of a tear in Galoup's planned out life. Featuring one of the greatest ending scenes of all time and yet another brilliantly physical performance from Lavant (who must be the greatest physical actor since Keaton?), Beau Travail offers one of the most unique and distinct looks at masculinity through Denis' stunningly beautiful camera. There are very few other films quite like it!