Ang Lee has always been an overtly visual director, and one that pushes technical boundaries. Whether that comes from the high-flying warriors in Crouching Tiger, Hidden Dragon (2000), Hulk's (2003) extreme comic book stylisation or the more direct use of 120fps technology (along with hyper-realistic 4K and an intentional use of actually shooting in 3D, rather than digitally restoring and making the film 3D after the fact… let's just say that Baudrillard would be proud) in Billy Lynn's Long Halftime Walk (2016) (which was received quite harshly by most, claiming the typical style over substance for a film that dared to play more with technical innovation/experimentation as opposed to placing the story at the centre), Lee has always evidently been interested by the capabilities of the camera (especially when placed with more modern assisting technologies, from CGI to 4K to 3D, etc.).
Whilst it feels like the term 'visionary director' has become something of a deeply coded dirty word within the film industry, one used to try to attract attention to the name of a director with a career completely dead in the water (such as Neill Blomkamp or Guillermo Del Toro), Ang Lee seems to be living and breathing proof that the term needs to be re-evaluated, as he continues to follow his own trend of pushing visual boundaries through the use of the newest technology available with his latest (and greatest) film, Gemini Man. Starring Will Smith (again, someone who has become linked to this collective disdain given to mainstream Hollywood actors, especially those viewed as past their prime), an actor who has been quite ruthlessly shot down many times for his performances and memed to death (let's face it, the YouTube Rewind appearance certainly didn't help things) in the leading role, Gemini Man clearly isn't afraid to take some risks.
To make a quick detour from talking about Gemini Man, I think it's first important to describe a link to After Earth, another mainstream Will Smith action fantasy film that was torn to shreds even more than Gemini Man was. After Earth also came from a director who started their career to a cacophonous fanfare of acclaim, only to fizzle off after trying more experimental ideas in their later work (and their more mainstream Hollywood work) in M. Night Shyamalan, and it also shares a great number of themes about the impact of cultivated psychology (largely in connection to parents) and about the link, or lack thereof, between man and the technology of the future. If After Earth was Will Smith starring in a postmodernist's wet dream that felt like a Frankenstein of the early films of Werner Herzog and a stripped down version of Lord of the Rings, Gemini Man becomes a postmodern version of Verhoeven, and it makes for one hell of a film.
Utilising 3D, 4K and 120 frames per second digital visuals (a typical film is shot as just 24 frames per second, really showing the difference Lee is experimenting with here), Gemini Man is as visually audacious as a film can really be right now, making use of all of the so-called gimmicks of modern capitalist cinema but making sure to use them with the story to create something that really stands apart from most anything being released right now. The visuals are absolutely stunning to say the least, and it has to be said that for the most part the de-aging CGI is extremely convincing (damn you, final scene, for ruining it!), but my main focus is on how this look impacts the audience, as this is something that audiences simply aren't used to, and I think that it shows in how most reviews (including mine) choose to focus on this more than anything to do with what the film really has to say. Maybe this is where Lee really earns his title as a visionary, as he is more interested by visuals than by plot and it shows especially clearly in this film. The script (likely intentionally) feels ripped straight out of Verhoeven's lap in the early 1990s and dusted off thirty years later by Ang, but the technology is so new that a strange disconnect is created between the two that also gives voice to the fight between the traditional and the modern, one that is only added to by both the plot and the use of the most modern technology on what feels like an older script (or an older style of screenwriting, at least).
Whilst After Earth was about how what we see is altered by our perception of it (tying specifically to anxiety – no need to elaborate on why I connect to Shyamalan's film so deeply beyond the simple mention of the disorder), Gemini Man is about how what we see alters our perception of ourselves, or, how our visual perception of events can alter our overall perception of the world at large. Whilst Lee's almost confrontational use of the latest and greatest technology literally impacts how we, the audience, see the film and the events portrayed within it, there are also many themes focusing intently on the consequences of visual misunderstandings (most of the conflict in the film comes from Will Smith's Henry Brogan literally seeing himself. He is at such a point of self hate that he explains not being able to look into the mirror, and so it's surely no coincidence that when he sees his past self – a purer self – he feels as though he has seen 'a ghost') and how emotion is connected to visuals. Visuals are used to reckon with demons, as is demonstrated by the character arc of Junior (Smith's younger self, for those reading who haven't seen the film), a man who is content until he sees things about himself from a different perspective and realises his perception has been wrong all along.
Visuals certainly aren't the only theme though, as there is a secondary focus on the political and personal after effects to cloning which are quite clearly linked to a general feeling of unimportance for people. Lee isn't exactly subtle in making his point about war, using a war on nameless terrorists as a backdrop to explain away the reasoning behind the existence of clones – an attempt to stop the death of 'real people' – with Clive Owen's almost caricatured villain (caricatured right up until the end, when he is finally given an ideology to build from) definitely manifests the typical 1990s governmental villain once again. The debate between emotional sensitivity and harshly cut reason is also one that is carried from the start of the film when the older Smith retires after realising that he doesn't 'feel' as though he can continue; choosing to put his emotion before his reasoning is what starts all of the trouble and opens the disequilibrium in the first place, and this is continued through almost every conflict in the film from one of the two embodiments of Smith struggling to fight between reason and emotion.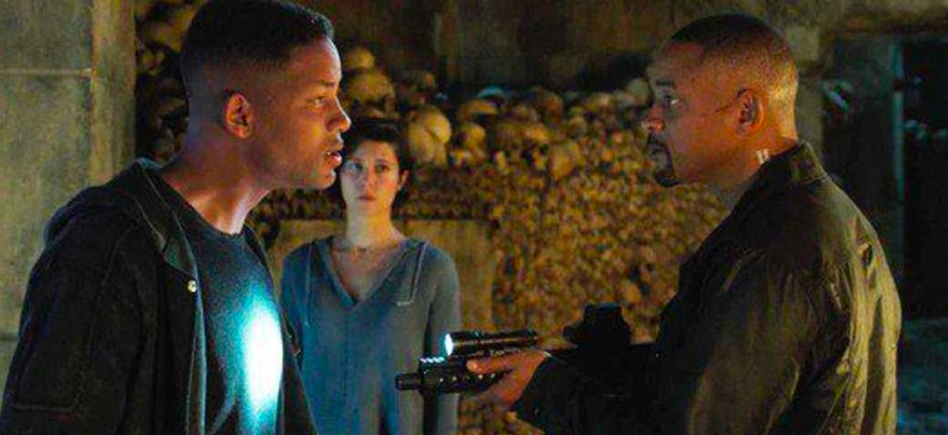 Maybe there have already been too many nods to Shyamalan here, but I also have to say that this feels very reminiscent of Glass (2019), too, in the way that these three characters bond together over their shared struggles and create exactly what is expected of them. I do wish that Gemini Man had gone a little further emotionally and really focused on the more melodramatic aspects, however I can't blame him (or the studio) for wanting to call it a day with the experimentation after the themes and the visuals, opting for something much more traditional and safer.
Overall, Gemini Man feels much like an amalgamation of all the things that don't seem to fly with audiences as they used to. The throwback script, the use of a star supposedly past their prime, the use of that dirty word 'visionary', the focus on technology before the story and a hell of a lot of other smaller techniques used in this film seem to hold it back from connecting with a modern mainstream audience, one that opts much more for films focused more on poetic realism with a new wave of mumblecore seeming to take over thanks largely to the success of A24's Moonlight (2016). To sum things up, Gemini Man felt doomed to fail from the start simply due to the current context for audiences who typically choose between comic book action and realist drama now. It feels like the films focused intently on playing and experimenting with the latest digital technologies are bound to fail with critics, from Michael Bay's Transformers series to Cameron's Avatar all the way to films like the Wachowski's incredible Speed Racer and the aforementioned After Earth. Innovation seems to have taken something of a background seat compared to outright fun or outright serious films that are deeply entrenched in usually quite predictable narratives (sticking closely to Todorov's ideas about narrative structure, which Gemini Man does side with quite often but manages to toy with it just enough to be satisfying), making for an interesting time for something like Gemini Man to release, even if seeing the film take a hell of a lot of fire is painful. The wants of the present simply aren't the same as the wants of the past, the two stuck in battle, just as they are in Ang Lee's harshly overlooked celebration of modern cinema technology.