There is an edited version of this list also available on Taste of Cinema, where this list was originally intended to go: http://www.tasteofcinema.com/2020/8-great-2019-movies-you-might-have-missed/
One could go on forever about how film fans, or fans of most anything, only have a certain amount of time in which they can actually actively consume what they desire to, however that feels unnecessary, so… here are ten films from 2019 that are pretty great that you should consider seeing! No special emphasis on the order here, the movies generally vary in quality just as much as they do in running time, but there are ten films on here well worth viewing no matter which way you look at it… unless it's a disturbingly cynical way, in which case… you can't be helped!
Martin Eden (Pietro Marcello)
One of the most visually stunning films of recent memory, Pietro Marcello's brilliant adaptation of Jack London's book of the same name is one of the best films of the year, as well as one of the most overlooked (for now – hopefully that can change when it becomes more accessible). Following the titular Martin Eden as he navigates his life without an education, looking to win over the love of Chiara Francini and become a writer during tough socio-political times within Italy. It's mostly focused on the link between artist and culture, and it is really quite unforgiving in its vision of said connection, but it is also such a brilliant film formally, even if it would benefit from taking more risks, visually.
Mister America (Eric Notarnicola)
Any fan of the On Cinema At The Cinema series will likely already be aware of this film's existence, but for those who aren't acquainted with the series or the film, watch both! On Cinema is a hybrid of media, starting off as a podcast before becoming a tv show, then another tv show, even including one episode over five hours in length detailing a trial one of the characters is involved in, and now even including a movie, too! The show features Tim Heidecker and Gregg Turkington as they discuss movies, usually in pairs, with each other and… life gets in the way… but as a work of comedy, both the show and the film are some of the most ambitious, unique comedy that there is, somewhere between the likes of Nathan For You and… an epic detailing seemingly endless events, creating the true feeling of a life lived in. It's bizarre, to say the least, but it is every bit as strange as it is funny, if not funnier. The film follows Tim Heidecker as he tries to win himself an election, but of course, his plans make things quite difficult. The film hasn't been out for too long, and only one more series of the show has been released since, so a quick watcher could still easily catch-up within a month or so!
Domino (Brian De-Palma)
De-Palma's latest seemed to be stuck in development hell, but it seems we got lucky (as did De-Palma himself) and Domino finally came out. And yes, before we dare go any further, it is more aligned with De-Palma's most recent output… this isn't a film to watch expecting anything quite like Scarface, but still, it is great. Domino follows a police officer from Copenhagen who, after having his partner murdered by a member of ISIS, tries to stop a CIA agent who is now using the captured ISIS member to bait more members into capture so that he can enact his revenge… although, as many of you will know, it's quite pointless to describe the plot of a De-Palma film and much more important to focus on the visual storytelling involved, because he is a visual master that no other director really compares to (aside from Hitchcock, who of course is De-Palma's most transparent influence), and in Domino his visual storytelling is still stunning, but more importantly his political aiming pays off beautifully even if it isn't the main focus of the film. De-Palma spent much of the 2010s experimenting with ways to tie the political and his style of filmmaking together, and it seems that with Domino he has come closer to his goal than ever before.
Sorry We Missed You (Ken Loach)
Ken Loach is a personal favourite, so perhaps there is a slight bias here, but Sorry We Missed You was not only one of the most necessary films of 2019, but also one of the most touching and powerful. The film tells the story of a family of four – mother, father, teenage son and younger daughter – who find themselves financially (and as a consequence, mentally and even physically) decaying and declining due to the false promise of freedom in a new job as a 'freelance' delivery driver. Of course, coming from Loach, the form is really quite simple and the focus is almost entirely on the dynamics from character to character, from their different stories linking in the middle, and also from their relationship to the current political landscape in the United Kingdom as well as their relationship to Newcastle, as the place that they live in. It's a tough film to watch, as many of Loach's films are due to their focus on the harsh realities of life for the British working man, but it is redeeming both in its poignant messages and its honesty, as well as in its emotional reach. It's great to see Loach operating at the top of his game, with some of the most realistic character in film in a little while.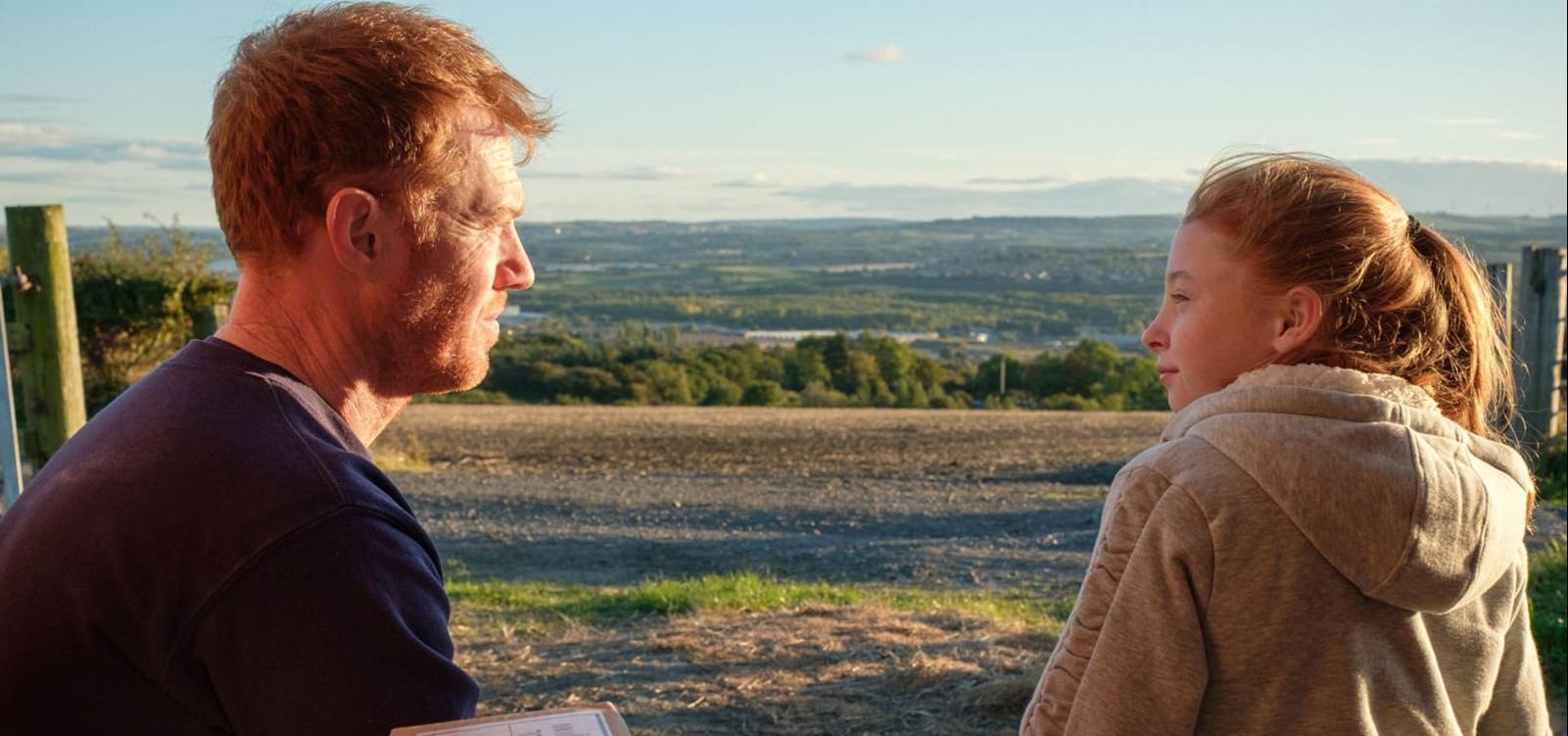 The Virtues (Miniseries, Shane Meadows)
From the famed director of This Is England (among many other great films, actually – Meadows has a quite consistent filmography!) comes The Virtues, the director's fourth miniseries now after directing a trilogy of follow-up series to This Is England, which tells the tender story of a man, lost due to his son moving away, who goes home to confront his past demons… of which, there are many. To be upfront, this is incredibly, incredibly tough to watch. The realism incorporated into the performances, especially that of leading man Stephen Graham (who had a great year this year, also playing Tony Pro in The Irishman!) make this borderline disturbing, and the focus on corruption in the church alongside the incredible (INCREDIBLE!) use of cross-cutting during the final episode certainly contribute to the very same feeling, generating one of the most memorably unnerving experiences from anything film-related in recent memory. It's an absolutely brilliant series, one that seems to have slipped under the radar outside of the UK (perhaps due to an unfortunate lack of accessibility), but one that truly deserves to be seen and recognised as one of the more powerful works of 2019.
Horror Noire (Xavier Burgin)
Horror Noire is a documentary that looks in great detail at the history of race in horror cinema, from The Birth of A Nation all the way up to Get Out and The Girl With All The Gifts, with insightful interviews with some of the great pioneers of black horror, such as Ernest R Dickerson (director of Bones and Juice!) for example. The documentary is one of simplicity, with all of the power generated through the interviews matched to the appropriate archival footage from the film being discussed, but it shouldn't be frowned upon for being this way as it still brings up so many fascinating points and paints a vivid picture of how cinematic representations of race, particularly in horror but usually across the cinematic board, have almost always been affected by exterior influences also tied to race. It's not a must-watch, in fact, if the subject doesn't sound interesting it's probably advisable to skip it entirely, but for those interested in the topics being discussed therein, this is a brilliantly insightful documentary!
Floralis (Short film, Johnny Clyde)
Johnny Clyde is one of the most truly exciting up-and-coming directors right now, only a few films into his filmography at this point. He burst onto the low budget experimental scene with the astounding Noctiflora, one of the most impressive short films of recent memory that brings to mind the likes of Peter Tscherkassky, among other, and became more well known for the ambitious and beautifully devastating The Forgotten Colours of Dreams in 2018, and in 2019 he returned with Floralis, perhaps his most ambitious film yet in terms of budget constrictions – a fantasy focused on the dark, yet undeniably poetic parts of nature. It is this wonderful, inexplicable meeting point between the best of big-budget fantasy, like Pan's Labyrinth, The Never-Ending Story and Labyrinth and the most exciting experimental work, specifically those with a heavy focus on pure imagery, mostly using colour and lighting to their advantage – and yet, it pays off entirely, creating one of the most fantastical, beautiful fantasy films to come out in… hell, the last twenty years at least! It may even be the finest thing that Clyde has released so far, though it's hard to call that accurately due to his consistency up to this point.
Most of all, it is just so wonderful to see a low-budget fantasy film flourish as this one has – Clyde has a way of making his restricting budgets entirely invisible to his audience, able to conceal them to the point that they're not even noticeable. And this is only the beginning of what is set to be a terrific, exciting collection of films from one of cinema's most exciting current up-and-comers. Knock Down The House (Rachel Lears)
Knock Down The House is a political documentary documenting the lives of a group of female politicians, from Alexandria Ocasio-Cortez to Paula Jean Swearingen, as they try to make their voices heard, working with no prior political experience and no corporate money backing them in their missions. Whilst the documentary isn't particularly formally astounding, or even unique, the luck of happening upon such great subjects and capturing such an exciting time within politics – a time when newcomers can do most anything so long as they are good at it, a time when, just for a moment, there is hope for a future with care for all – is unparalleled in political documentaries and makes this something that strikes as seriously important viewing.
The Souvenir (Joanna Hogg)
Maybe the most well known film on this list due to extensive coverage, mainly from MUBI who helped to distribute the film, Joanna Hogg's The Souvenir is about the relationship between a young budding filmmaker and a rich, older man who seems to be hiding something serious underneath the suave surface. With two of the best performances of the year the front and a distinct look that comes from shooting on film and seemingly adding additional grain to add to the rather beautiful effect, The Souvenir manages to just about surpass the typical romantic-drama by differentiating itself on a variety of planes, from a grittier look to the oh-so harsh performances to even the way that relationships throughout the film are linked together and the way that class is shown as… seemingly nothing but a means to live within. It's another touching and difficult British film (refer back to Sorry We Missed You above) of a broken love that could mean the end for multiple characters… It's as enticing as films of this sort often come.
No Data Plan (Miko Revereza)
Clocking in at a surprisingly brief seventy minutes, No Data Plan is a documentary of deceptive simplicity. Mostly silent, or close to silent (ambience plays a background role), the film follows the director on a cross-country trip via train through America as he reflects on details of his mother's affair, but more quietly focuses intently on migration in the US. The focus on the landscapes of America, whether literally through the window of the trains the camera innocently peers through or in more subtle ways, as through laid-back observances of the people passing by, at the advertisements passing by, at the interiors of the train and of the stations that splice the journey taken. It's a strange film, a difficult one too, but ultimately one that paints a touching portrait of those involved despite the rougher edges it carries, in fact, it wears those exact rough edges with a certain deserved pride, and that is what makes it so human underneath, despite the fact that the film is more often interested by the non-human.